Beethoven-Year 2020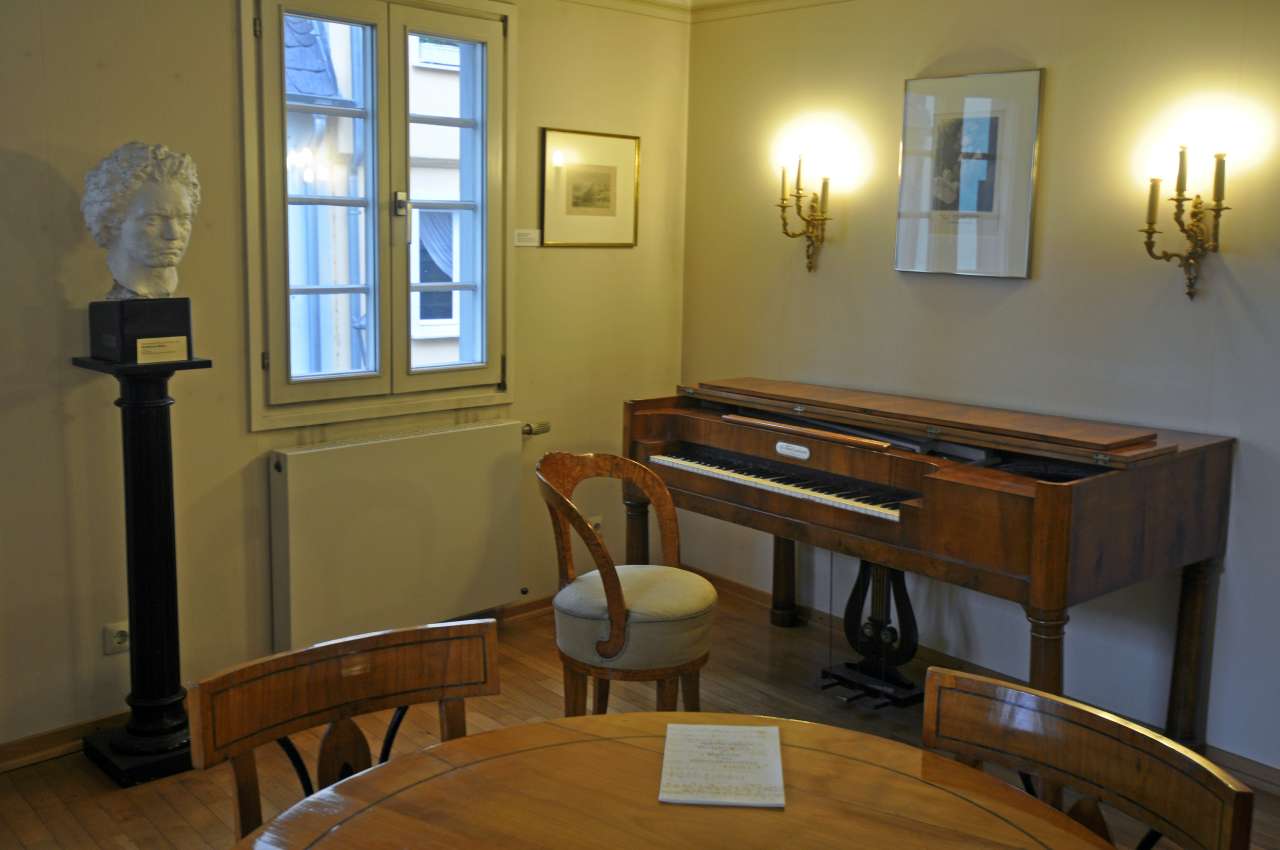 Mutter-Beethoven-Haus Koblenz2020 marks the 250th birthday of Ludwig van Beethoven, and across the globe this anniversary will be celebrated with innumerable concerts and events, in which the world will give honour to the German composer, one of history's greatest and most influential artists.
Although Beethoven didn't write directly for guitar, he had through Anton Diabelli and Mauro Giuliani contact to the guitar scene in Vienna. He was also familiar with arrangements, made by his contemporaries, of his songs with guitar accompaniment. And according to a letter he wrote to Therese Malfatti, he even himself arranged some of his own songs with guitar accompaniment.
As a Festival in the heart of the Rhineland, we too can be part of this celebration, and moreover we have a couple of special reasons to join in. Ludwig van Beethoven was from here! A Rheinlander who spent half of his life in Bonn, and whose Mother, Maria Magdalena van Beethoven, came from Koblenz. His lifelong and best friend, Franz Gerhard Wegeler, was also a prominent figure in our city.
Mutter-Beethoven-Haus KoblenzHence, the Koblenz International Guitar Festival & Academy has made it their task to make a musical and artistic contribution to the celebrations of Beethoven-Jahr 2020.
The festival week will start in the main hall of the Rhein-Mosel-Halle with Beethoven's 5th Symphony and Triple Concerto performed by the Orchestra of the Hochschule für Musik Mainz, conducted by Wolfram Koloseus, and soloists Thomas Hell (Piano), Manuel Fischer-Dieskau (Cello) and Benjamin Bergmann (Violin). This promises to be an intensive prelude concert "con fuoco", a mix of youthful vigour with the experience of the four professors from the Hochschule für Musik Mainz, that we think could well have pleased the "Feuerkopf" Beethoven himself.
On his historical instrument, the brilliant Czech guitarist, Pavel Steidl, will give an afternoon concert in the Rheinsaal. He will interpret and explain, in his own inimitable style, guitar music written by friends and colleagues of Beethoven.
Mutter-Beethoven-Haus KoblenzUnder the title "So nimm sie hin denn, diese Lieder/Accept, then, these songs", and after a week of intensive rehearsals during the festival week at the Landermusikakademie Engers, the young prize-winning singers from Barock Vokal, directed by Prof. Claudia Eder and accompanied by their Artist in Residence, Hans-Werner Huppertz, present a concert in the Kurfürstliches Schloss of music for guitar and voice by Beethoven and his contemporaries.
"Sie war mir eine so gute und liebenswürdige Mutter, meine beste Freundin/She was such a good and gracious mother, my best friend", wrote Beethoven shortly after the death of his mother. In commemoration of Maria Magdalena van Beethoven, the Koblenz Guitar Festival String Orchestra (made up of some of the best students from the Hochschule für Musik Mainz and the Franz Liszt Academy Budapest), together with an array of soloists from the festival, will perform together an evening concert in the Kaisersaal of the Kurfürstlichen Schloss. The concert will be preceded by a reception, held in honour of Beethoven's mother, presented by the Koblenz International Guitar Society and the friends association Mutter-Beethoven-Haus.
And last, but not least - Jazz. On Pentecost Sunday, "The Blues and Beyond" is the title of the evening concert in Café Hahn. The Jazz guitarist, Frank Haunschild (who like Beethoven, is a born and breed Bonner), along with his ensemble (Alexander Gelhausen-Voice, Tilman Höhn-Guitar, Reza Askari-Double Bass, Fabian Arends-Drums), will dedicate an evening to the great improviser Ludwig van Beethoven. At the same time, they will show us how improvisation, which was a commonplace occurrence in Beethoven's time, has found its continuation in Jazz music.
All pictures from Förderverein Mutter-Beethoven-Haus.